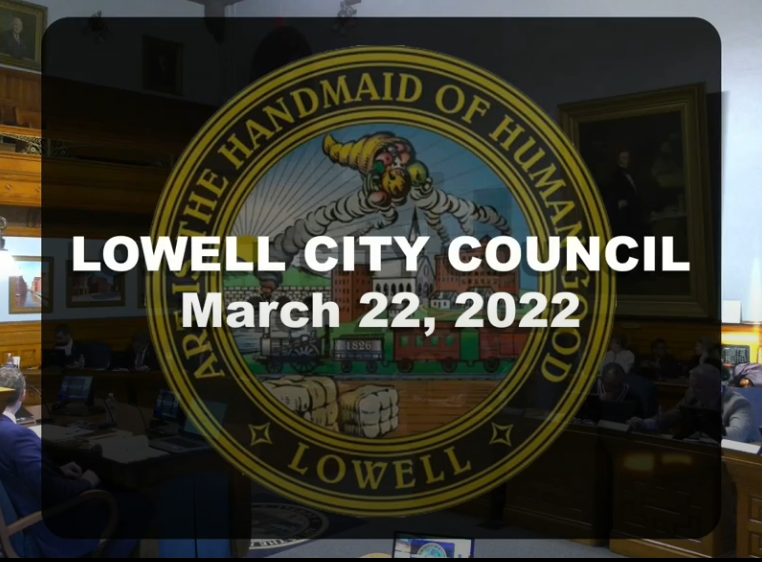 1. Processes for Thee, But Not For Me
At the beginning of this Council's term we were lead to believe that the city had serious problems with the processes employed to find and hire qualified talent. It was argued that the city should implement uniform processes that would reduce cronyism in favor of a more merit-based approach. As such, I was looking forward to seeing how the council would lead by example when it came to the hiring of the most important job in the city.
On February 22, 2022, The Personnel Sub-Committee (C. Gitschier -chair, C. Robinson, and C. Rourke) met to establish the process for hiring a new City Manager. I don't think I can improve on the summary of the meeting provided in Richard Howe's newsletter:
"The adequacy of the job posting was also discussed. HR head Mary Callery said several times, "It's taken directly from the statute" but then someone pointed out that compared to the mandatory licensure and professional qualifications required for even some entry level positions in city government, the manager's posting seemed lacking in specifics. That launched the council down the path of bolstering the educational and professional prerequisites for city manager candidates. That journey was quickly abandoned with the upspoken realization that imposing detailed qualification requirements might inadvertently exclude the person most councilors want to hire." [emphasis added].
From that running start, we were told that the full council would nevertheless receive a list of applicants, from which each councilor would choose their top three. The finalists would then be invited in for interviews and a new manager would presumably emerge.
Last night we were advised that 14 candidates applied for the job. Councilors each voted for their top three candidates. Tom Golden received eleven votes, a second candidate received four votes and a third candidate received even fewer.
Councilor Mercier moved to invite Tom Golden – and only Tom Golden – for an interview. In addition, Councilor Mercier took the opportunity to mock candidates for (a) being from out-of-state, and (b) serving communities smaller than Lowell (she failed to note that her preferred candidate has no city management experience of any population in any state). The motion passed 11-0 and the process adopted by this council was abandoned on the fly.
I suppose it does not really matter – the net result was always going to be the same. From day one, this hire was treated as an inevitable force of nature rather than a true personnel decision. However, it's been interesting watching the council struggle to create the process when none was wanted. This is particularly interesting in light of the critique leveled against the city on this front just two months ago.
2. Lowell Sustainability Council
Members of the Lowell Sustainability Council (LSC) were on hand to provide a brief presentation to advocate for policies and practices to be implimented by the city to address climate change. The LSC recommended action in four areas:
invest and improve public transportation
enhance pedestrian and bike mobility in the city
electrify municipal fleets and where possible school busses; and
add charging infrastructure in convenient and visible areas
During the discussion that followed, Councilor Gitschier made reference to Sustainable Lowell 2025, and inquired as to the progress we made as to the plan's objectives in this area.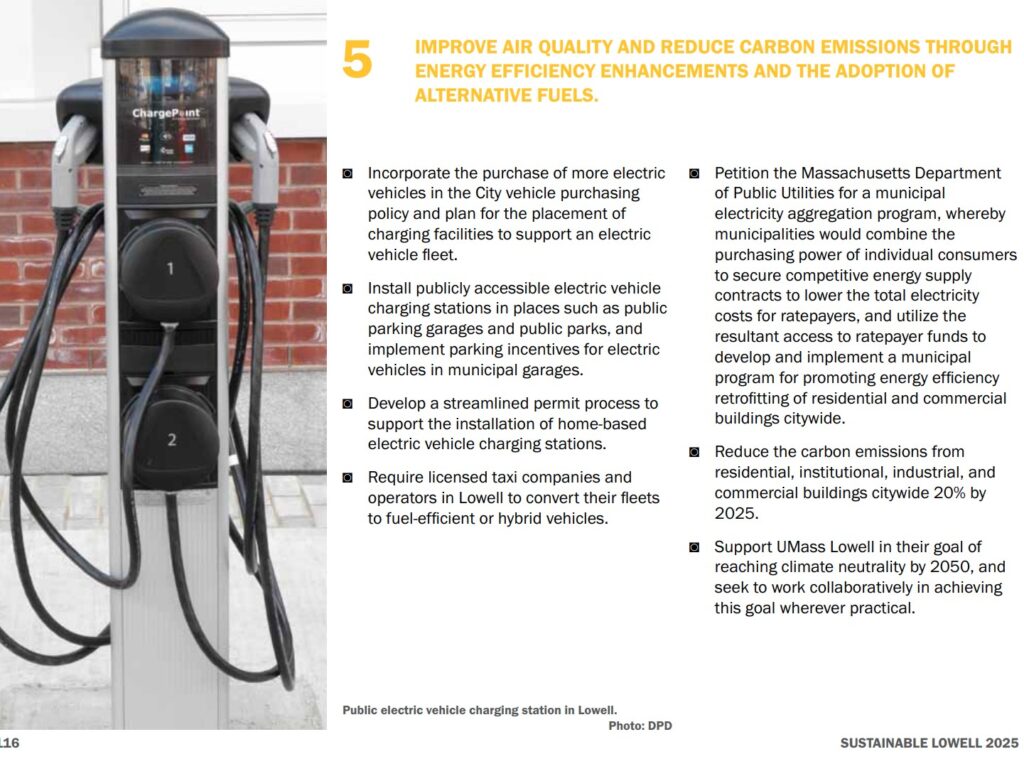 Jay Mason, the Chair of the LSC stated that we have a long way to go. To that end, Mr. Mason indicated that the LSC would be taking a more-proactive approach in calling to action from the council.
Although climate change is a global issue, many critical actions to reduce greenhouse emissions and to promote resilience can be initiated locally. As the federal government has failed to act in these areas it is nice to see Lowell taking action to implement change.
3. Water Line Cross Connections
A discussion was held relative to a response to a motion regarding a cross connection/back-flow survey currently underway in the city. All of this was well above my head, but apparently a cross-connection is a point along the water line where potable and non-potable water meet. Backflow occurs when the pressure upstream is lower than the pressure downstream on a water line, causing a reversal of flow. The Mass DEP requires that the city ensure protection of cross-connections along the potable water system.
Sounds good so far, but apparently compliance with this mandate is causing undue hardship on local businesses. From what I could gather, businesses get hit with the cost of installation of the back-flow system as well as testing of each unit. Further, these businesses have been forced to install the most-expensive system when cheaper state-approved systems exist.
Councilor Rourke pointed out that the City has made efforts to assist businesses during the pandemic, however, this policy acts to undermine those efforts. Councilor Drinkwater brought forth a motion to immediately release a recommended $500,000 of ARPA Funds to assists residents with this burden. The motion passed 11-0.
4. Budget Update & Free Cash
The Manager provided two informational reports on both the upcoming Fiscal year 2023 Budget as well as certification by the state of $17,780,512 in "free cash" for fiscal year 2021.
As per the budget report – budget guidelines were distributed to Department Heads in January of 2022 and all departments have now submitted their funding requests for the upcoming fiscal year and the finance department has completed a preliminary revenue estimate for the next year, as well as updated
the city's rolling five-year forecasts for general fund and the three enterprise funds for water, sewer, and parking.
The report set forth a number of challenges the city will face, largely associated with the city's fixed costs:

The item that sticks out and garnered discussion is the $4.8 million for another increase in the city's charter school assessment (approximately $10 million over the last couple of years). Councilor Drinkwater pushed for full reimbursement from the State on this item.
As to the free cash, the report defined "free cash" as a revenue source that results from remaining, unrestricted funds from its operations of the previous fiscal year that typically includes receipts in excess of revenue estimates and unspent amounts in departmental budget line items for the year just ending. The recently certified free cash for FY 2021 is nearly $18 million and compares with previous years as follows: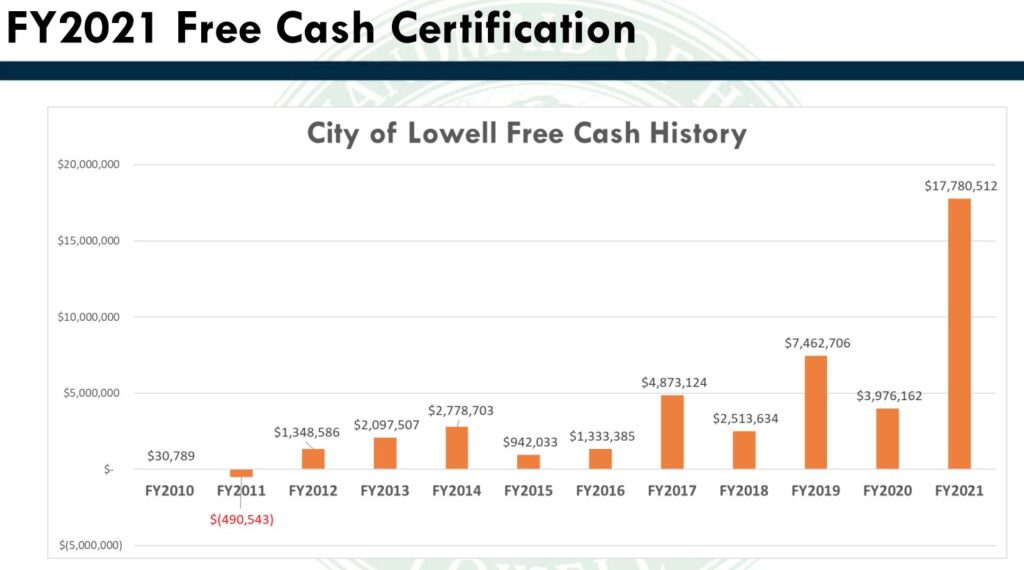 A 20 year high for free cash certainly looks like sound fiscal management and practice to me. It's hard to argue with cash on hand for rainy days and serves to improve the city's bond rating. Nevertheless, some would argue that too much free cash represents the hoarding of taxpayer money and should be immediately spent on goods and services that would otherwise be deferred or bonded. To help balance things out, the administration made several recommendations for its use.
5. F-You for Your Service?
The City Manager reappointed Peter Finnegan as a member of the Board of Parks. However, this appointment requires approval of the Council. With few exceptions these appointments are usually passed without much drama. People who serve on city boards do so as volunteers who donate their time and energy to improving our city. We quite often hear that managers are unable to find volunteers to fill positions on city boards. Indeed, if the city's website is accurate, the Board of Parks already has two vacancies:

I don't know Mr. Finnegan and I doubt my life will change much whether he is on the Board of Parks or not. However, I was shocked when the council rejected his appointment by a 7-4 vote. From what little I know, Mr. Finnegan has been serving for over twenty years – as such, why was he rejected to serve on a board that is already missing two members? As there was no explanation to citizens as to why a volunteer was turned away, we are free to speculate.
In 2017 Mr. Finnegan cast the lone but deciding vote against removing the Article 97 conservation restrictions on two fields near Cawley Stadium that (arguably) would have made it easier to construct the school at that location. As a Board of Parks member, he reasoned that they city had a history of building on park/open space without replacing it. As a Board of Parks member tasked with protecting parks and open space, this position is logical if not mandated. You can still catch video of his reasoning.
Now let's fast-forward five years to last night's meeting. Some, if not all, of the councilors voting in opposition to the appointment were Cawley supporters. Are they still carrying a grudge? If there were other factors at play, please let us know. Otherwise, seven councilors indulged in an act of petty spite, look small for doing so, and may have discouraged others from serving.