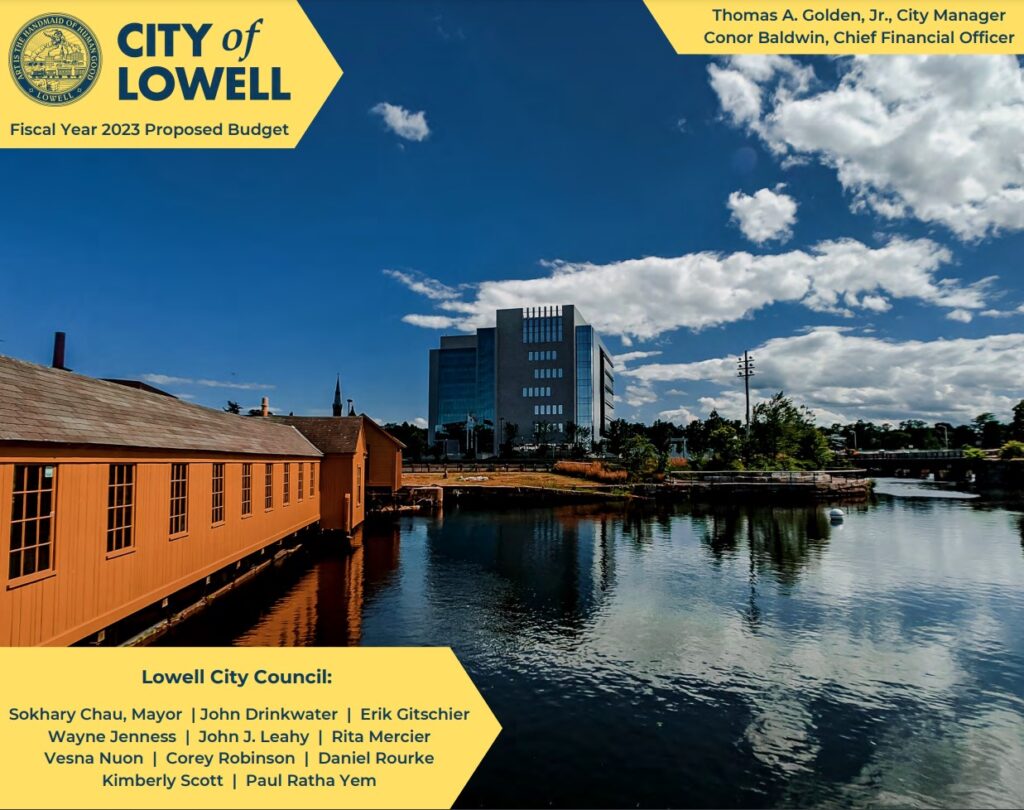 The historically under-taxed citizens of Lowell will be playing some catch-up this year. Late in the evening, (and after some minor drama), the Council adopted the proposed Fiscal Year 2023 budget (without any cuts). The total budget is $502,555,769. To the taxpayer, this means a 5.5% property tax increase. The increase was justified by the administration as follows:
This budget includes a planned levy increase of 5.5%, plus new growth. While above the standard 2.5% marker, this increase will afford the city the opportunity to make progress in addressing many long-standing issues and make key investments to improve the quality of services. As history has shown, Lowell functions best with continuous, modest increases to the levy in order to fund the rising costs of goods and services. This fact is evidenced by the $18.2 million in excess levy capacity in FY2022—the amount of money below the tax levy limit prescribed by proposition 2 1/2. In the coming years, we must continue to find creative ways to increase revenue streams. Lowell is more heavily reliant on state aid than most Massachusetts municipalities, as approximately two-thirds of the entire city budget comes from the State budget
No residents spoke in favor of the budget. However, there were several speakers who voiced opposition to the increase. I'm too lazy and probably too dim to follow much of the information, data, and accounting in the 804 page budget document. However, it is my understanding that it would take a 3.5% increase just to maintain basic services or "keep the lights on." Since taking office in January, this council has not been shy about advancing proposals that would hit residents in their pockets. Nearly every week we hear calls for more staff, higher paid staff, new equipment, and better services. Further, the council selected a new city manager who has been tasked with implementing these demands. Thus, the additional 2% increase brining our total to 5.5%. In light of both the demands of the council as well as the overall effect of inflation on the cost of doing business, this sum strikes me as a relative bargain and one in-line with council objectives.
As such, I was surprised that there was so much push-back and discussion relative to a $3,668,322 line item in the manager's budget: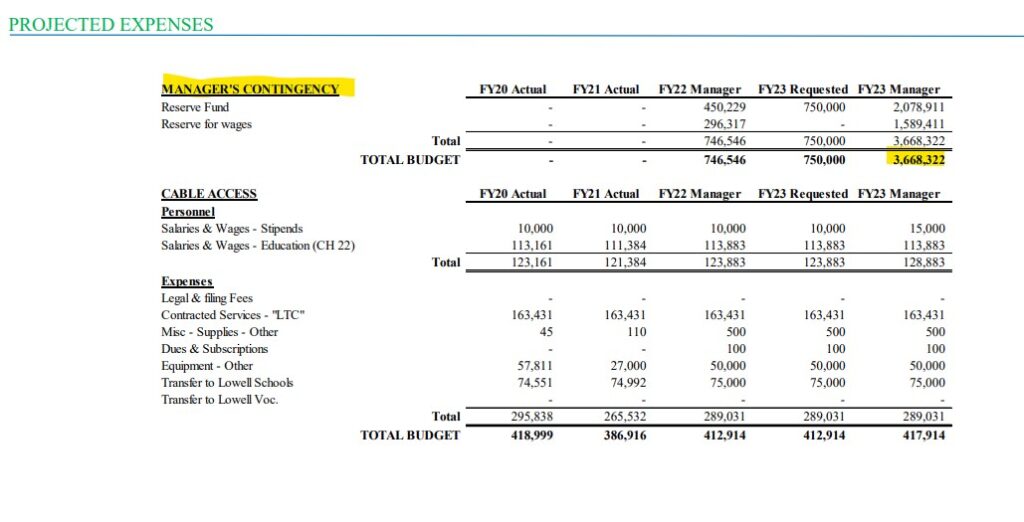 This sum, though only 0.73% of the total budget, is a significant increase over FY22's $746K. However, Manager Golden made the case that it was necessary as a means of trying to "change the way we do business" and to attempt to address council prerogatives laid out earlier in their term:
If we are to deliver the quality of life that our residents deserve; we must raise the bar. This budget represents the beginning of a trend in reinvesting in the city departments that deliver those services, but it also balances the need to mitigate the impact on Lowell's residential and commercial tax base. This is the perennial challenge for Gateway Cities like Lowell. With this funding plan, however, we meet this challenge for FY2023

– City Manager Budget Message (emphasis added)
For example, the city would be able to use this fund to commission and pay and classification study that multiple councilors have deemed vital. Nevertheless, Councilor Gitschier put forth a motion to reduce this fund by $1 million. Only Councilors Scott and Nuon supported the cut, and it failed. Perhaps some of the push-back could have been avoided if this sum was spread throughout other areas of the budget. However, Manger Golden cited insufficient time on the job to accomplish that goal.
In addition to the Manager's Contingency Fund, there were only a handful of other cuts put forward (I believe all by Councilor Gitschier). I don't have an exact figure, but I'd be surprised if these additional cuts amounted to more than 0.5% of the total budget. Accordingly, I'm left to conclude that there is very little fat in this budget. Though I am sympathetic to the toll an extra 5.5% will take on citizens with a fixed income, I came away satisfied that this increase is necessary to move our city forward.