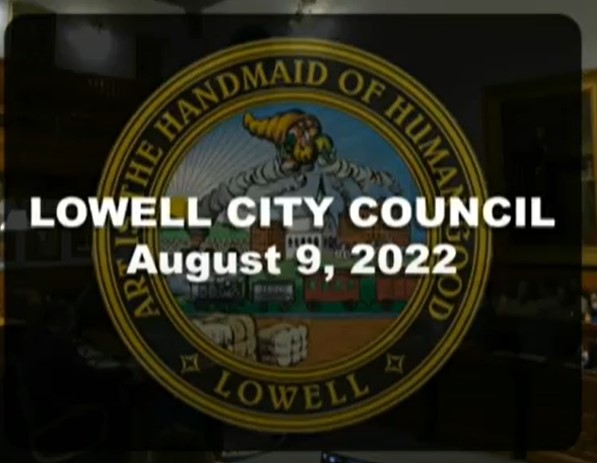 1. Dracut(?) Man Receives Lowell Award
John MacDonald, who has served bravely in the culture wars, was on hand to receive "Veteran of the Month" honors. Is this new? I don't recall this being a monthly tradition in the past. In any event, last I saw, Mr. MacDonald was a resident of Dracut, where he recently picked up a similar award. I particularly enjoyed the part where the Mayor gave a plug to Mr. MacDonald's employer, also not located in Lowell.
2. Traffic Help on the Way?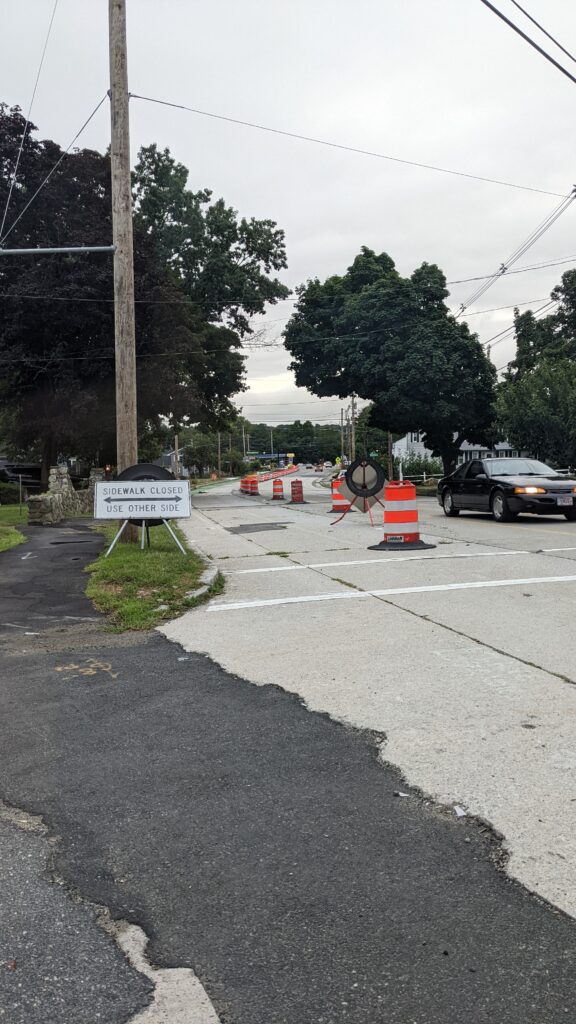 There were, as always, multiple motion responses and new motions dealing with traffic issues:
Robinson – Req. City Mgr. Have Proper Department Look Into Installation Of A Four Way Stop Sign At The Intersection Of West And West 6th Streets.
Rourke/C. Scott – Req. City Mgr. Update Council Regarding Updating Of Crosswalks At All School Bus Stop Locations Within The City.
Drinkwater/C. Leahy – Req. City Mgr. Provide An Update Regarding Planned Traffic Calming Measures And Pedestrian Improvements On Andover Street, As Well As, Line Striping Throughout The City.
Chau – Req. City Mgr. Have Proper Department Investigate Repairs And Improvements To The Public Roadway And Sidewalks On Smith Avenue.
Chau – Req. City Mgr. Have Proper Department Investigate Traffic Calming Measures At The Intersection Of Foster Street And Princeton Boulevard
MOTION RESPONSE – TRAFFIC CALMING MEASURES FOR ANDREWS STREET.PDF
MOTION RESPONSE – 133 ROADWORK.PDF
Councilor Rourke asked City Manager Golden for an update on his prior request that the Manager designate an employee as a contact-point for addressing traffic complaints so that granular issues need not come before the council in the form of a motion. I did not hear a manager response to this question.
Of note to me were discussions relative to Route 133/Andover Street. The Council received an update on the work being done near the Tewksbury border. Construction on this project has proceeded at a glacial pace and appears to have stalled-out in recent months. In addition, the changes to the traffic pattern have increased the dangers posted to pedestrians and motorists.
As to Andover Street safety in general, a registered speaker noted the dangerousness of the street and reminded the council that in the Summer of 2019, the Council received a report on a number of short and long-term proposals to calm traffic: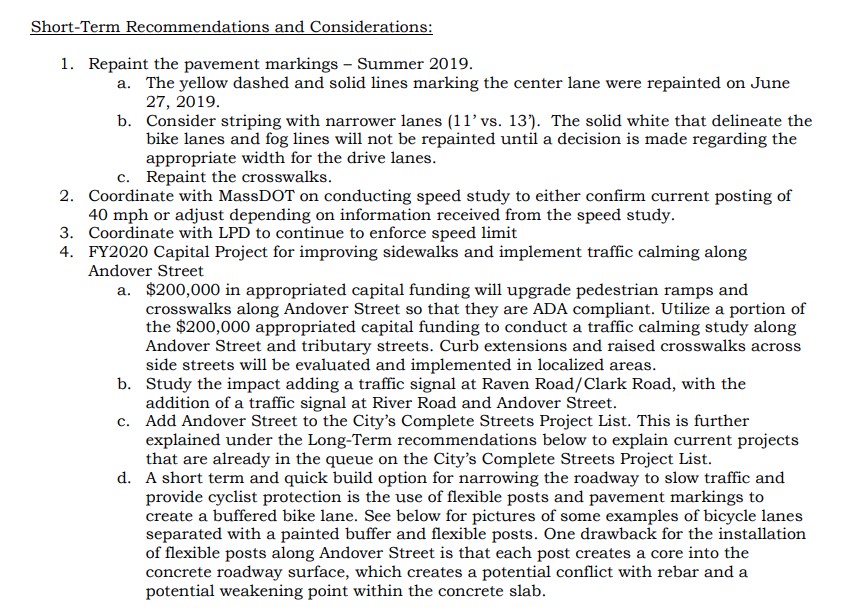 Roughly half a year after this report was issued, Covid hit and the recommendations were apparently lost in the shuffle. Hopefully, the Golden administration can take these proposals and run with them. I would also hope that these measures can be implemented city-wide. Finally, Councilor Leahy let slip that the City is finally in the process of hiring someone to fill the long-vacant traffic engineer position.
3. Dutton Street to Be Used as Street
Speaking of street issues, there was a motion response to Councilor Robinson's Motion to "Request the City Manager to have the proper department provide an update on whether the section of Dutton Street at Cobblestones sits is part of the Lowell High Improvement Plan."
The response indicated that this portion of Dutton Street, is not part of the project and will be used as an entrance leading to the rear of the high school: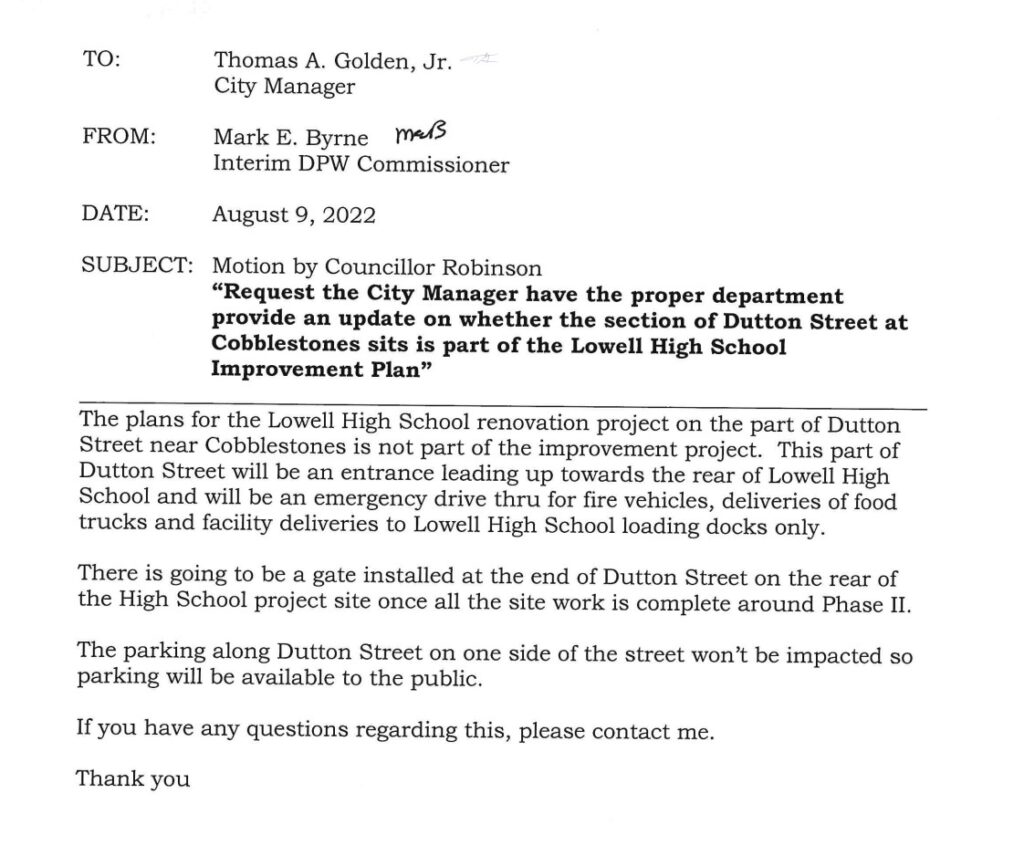 Councilor Robinson stated that the response was "a shame." Councilor Leahy asked Councilor Robinson the question I had in mind as to what result he was looking for? Councilor Robinson responded that he was looking for any kind of improvement in the area to "dress it up" suggesting planters or curbing as compensation. You'll never hear me arguing for more vehicular traffic, and I can certainly appreciate the concern as Cobblestones has been a cornerstone of the Lowell restaurant scene for decades. However, all businesses and residents must deal with construction and growth issues from time to time. Most, if not all, do not get requests for taxpayer-funded planters. It's clear that this advocacy has roots dating back to 2017:
http://www.splath.com/index.php/2017/10/06/youre-killin-me-lowell/

Nevertheless, I applaud most any effort to beautify any corner of our city. The Manager noted that Dutton Street, in its entirety, is "on the list" for improvement – which is sorely needed. I also could not agree more on the truffle fries.
4. Transit Oriented Development Overlay District
The Council was provided an informational report as to a Transit Oriented Development (TOD) Overlay District surrounding the Gallaher Terminal. As per the report, at the end of last year, the City received a grant from MassDevelopment to create a TOD Plan within a 1/2 mile radius of the Station. The goal of this plan is to promote revenue generating commercial and high density residential land uses, alternative transportation options, open space, and entertainment/recreational amenities, as well as comply with the new multifamily zoning requirements for MBTA communities.
Section 3A of M.G.L. ch. 40A mandates:
[t]hat an MBTA community shall have at least one zoning district of reasonable size in which multi-family housing is permitted as of right and meets other criteria set forth in the statute:
Minimum gross density of 15 units per acre

Located not more than 0.5 miles from a commuter rail station, subway station, ferry terminal or bus station, if applicable

No age restrictions and suitable for families with children
The proposed plan was referred to sub-committee for discussion, but is available for your review here.
As I have previously noted, an MBTA community that does not comply with Section 3A is not eligible for funding from: the Housing Choice Initiative, the Local Capital Projects Fund, or the MassWorks Infrastructure Program. The new law does not require that we actually build housing – but rather, forces us to permit multi-family units, as of right, in the prescribed zone. Scaling up the zoning process to move some decision-making authority away from the neighborhood level and toward the state level can make it easier to increase housing supply.
5. Discussion on Vehicle Inventory Report on Hold
For many months, Councilor Gitschier has been seeking an inventory of city-owned vehicles. The report was finally issued for last night's meeting. However, as Councilor Gitschier was not present, discussion will be tabled until the next meeting. I am looking forward to an answer as to how the Water Utility justifies the purchase of a new 2022 Ford Explorer when cheaper, more fuel-efficient vehicles were available.